Established in 1983 by Marilou Morales, Pasta & Co. has been owned and operated by long-time employee Sheryl Simpson and Teresa Swann since 2000.
Throughout the 30 years that we've served Austin's fresh pasta needs, Pasta & Co. has supported other locally owned and operated businesses whenever possible. Buying locally means we can provide you with the freshest products available made from the freshest ingredients available. Please consider this when purchasing your fresh pasta. Help keep Austin's economy strong and BUY GREATER AUSTIN!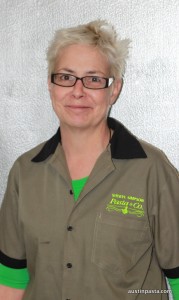 Sheryl's food service experience spans over 30 years from her high school job waiting tables at Oakridge Smokehouse Restaurant in Schulenburg, Texas, to multiple positions in Austin's Lone Star Cafe chain in the 1980's, to employment in several venues owned by Charles Mayes, current chef and proprietor of Cafe Josie. Sheryl's culinary background includes New Orleans Creole and Southwestern influences, which often find their way into many of our specals.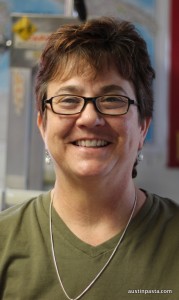 Co-owner Teresa Swann's background is in Construction Management. She handles the financial side of the business as well as coordinating our sales at the Sustainable Food Center of Austin's two farmers' markets. Self-titled "G.G." (Grunt Girl), Teresa contributes wherever Pasta & Co. needs her from landscaping to prep and dishwashing to manning one of our booths at the farmers' markets.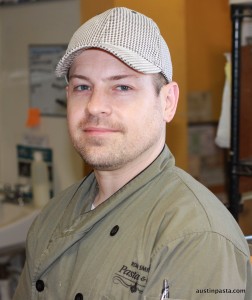 Austin's premiere pasta-maker, Ron Smith manages and operates all pasta production. Part of the Pasta & Co. team since March 1997, Ron combines expert technique and creativity to produce classic Italian delights as well as flavored pasta and ravioli selections that reflect a diverse and ever-expanding range of culinary influences.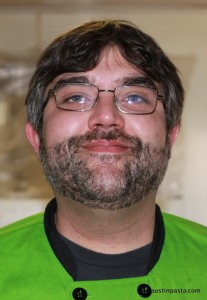 Mike Martin came to us last year from another iconic local eatery, Austin Pizza. When he's not participating in trivia and pool tournaments, he leads our prep team, cranking out our entrees, sauces and desserts. If you like carrot cake, come check his out.
Pastamaker Jenna Ryan comes to us by way of long time commercial customer, Mother's Café & Garden.  While her main focus is to assist Ron with daily pasta production, her willingness to tackle any task given her makes her a true asset to our team.  When she's not in our kitchen or Mother's, you can find her around Austin serving Asian vegan cuisine from her food truck, The Great Y'all.
Chris Gonzales brings a broad background of experience to his part-time customer service/prep role.  When he's not at Pasta & Co he runs his own screen-printing company and provides background vocal for local bands.
.